Terminal of Choice: iTerm2
One of the critical tools or piece of software in a developers life is the terminal or command prompt. If you are on Windows, you probably use cmd or PowerShell. If you are on Linux, you have the choice of a plethora of shells. It is the same with Mac.
I have been a Mac user for about 12 years now. It gives me the power of Linux paired with the friendliness of Windows. I would say it is a happy middle for me. It's not perfect, but it does the job reasonably well!
The terminal shipped with Mac comes with bash shell by default. If you are using Catalina or above, it has been switched to zsh by default. I will deep dive into my shell customization in another post.
Background
I started coding professionally around 2008. Coding for personal projects began in early 2004. So it's been a 16-year journey and counting. Here are a few terminal replacements I have used in the past few years:
Cmder: To date, my favorite terminal on Windows.
Hyper: It is a beautiful and extensible command-line interface built on open web standards. JavaScript developers will feel right at home.
iTerm2: Finally settled on iTerm 2.
I've been with iTerm2 for the last five years. I'm absolutely in love ❤️ with it because:
Highly configurable and multi-profile support
Split Panes
Autocomplete
Paste History
Jump to Window shortcuts
Inline Images and a Password Manager!
Free 💰
Downloads
My Setup
Now comes the important part, my setup of iTerm2. I am going to share my extensions and settings for the terminal. You can use them; as you feel like. Below is how my terminal looks like: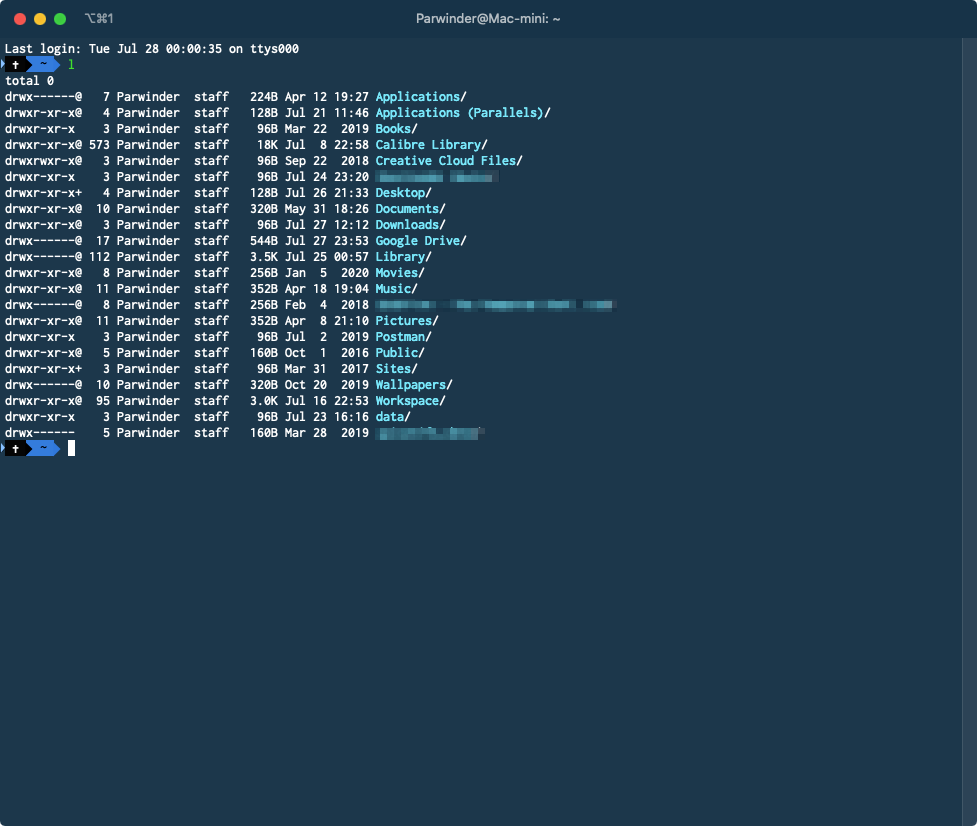 Sync your iTerm2 preferences across multiple systems. Go to Preference. Select General > Preferences and check the box for Load preferences from a custom folder or URL. You can use a service like Dropbox or Google Drive.
To make the title bar match the rest of the color scheme, select Appearance > General > Theme > Minimal.
To have an unlimited amount of scroll back available in the terminal, select Profiles > Terminal > Scrollback Buffer and check Unlimited scrollback. I will attach my profile with this post so you can import it directly.
I make use of ligatures and anti-aliasing for my text. For fonts, I use powerline patched fonts, specifically Inconsolata. Download link above.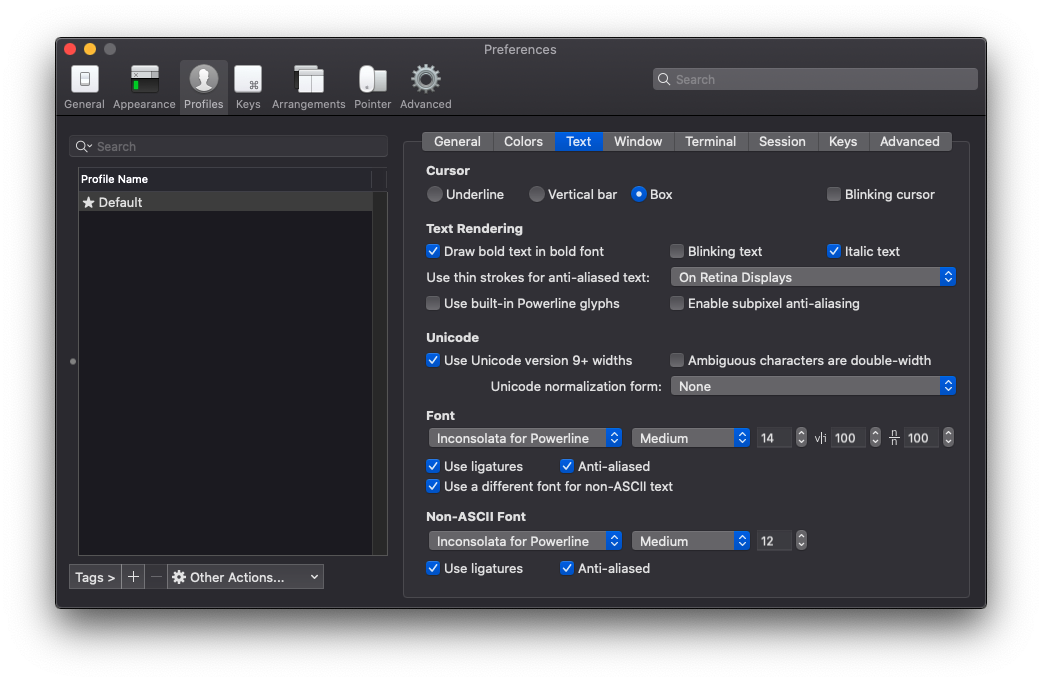 For colors, I use cobalt2. It is a theme created by Wes Bos. Download link above.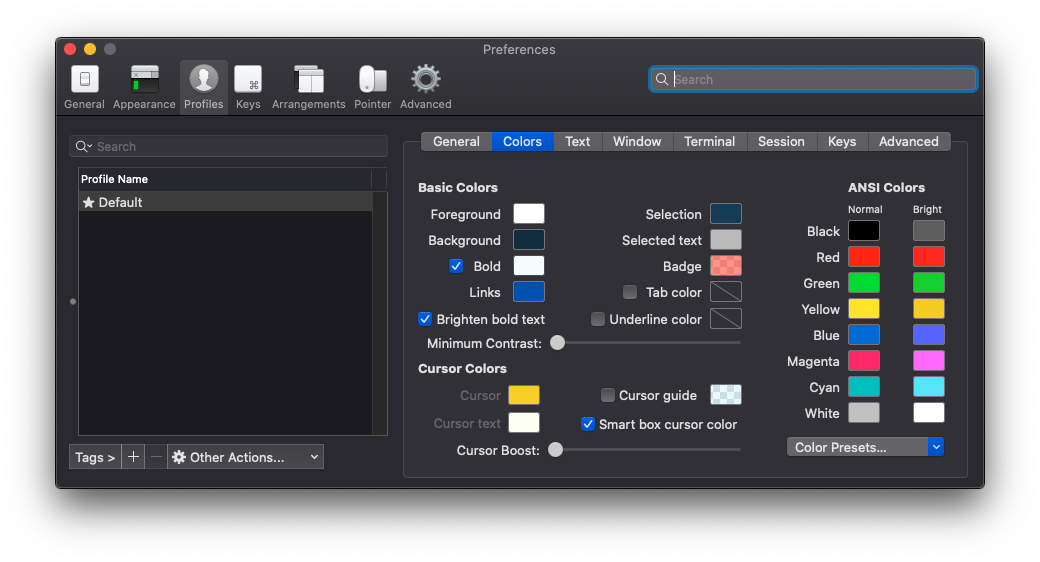 Here is my iTerm2 profile I promised. You might have to change the Working Directory. Direct link to my profile JSON is here. I keep it up to date. Happy Coding 👨🏼‍💻
{


  

"Set Local Environment Vars"

 

:

 

true

,


  

"Working Directory"

 

:

 

"

\/

Users

\/

Parwinder"

,


  

"Prompt Before Closing 2"

 

:

 

0

,


  

"Selected Text Color"

 

:

 

{


    

"Green Component"

 

:

 

0.70916998386383057

,


    

"Red Component"

 

:

 

0.70916998386383057

,


    

"Blue Component"

 

:

 

0.70916998386383057


  

},


  

"Rows"

 

:

 

45

,


  

"Ansi 11 Color"

 

:

 

{


    

"Green Component"

 

:

 

0.78536456823348999

,


    

"Red Component"

 

:

 

0.92833864688873291

,


    

"Blue Component"

 

:

 

0.035555899143218994


  

},


  

"Use Italic Font"

 

:

 

true

,


  

"Foreground Color"

 

:

 

{


    

"Green Component"

 

:

 

1

,


    

"Red Component"

 

:

 

1

,


    

"Blue Component"

 

:

 

1


  

},


  

"Right Option Key Sends"

 

:

 

0

,


  

"Character Encoding"

 

:

 

4

,


  

"Selection Color"

 

:

 

{


    

"Green Component"

 

:

 

0.20615114271640778

,


    

"Red Component"

 

:

 

0.09597768634557724

,


    

"Blue Component"

 

:

 

0.31055498123168945


  

},


  

"Triggers"

 

:

 

[



  

],


  

"Blend"

 

:

 

0.30000001192092896

,


  

"Mouse Reporting"

 

:

 

true

,


  

"Ansi 4 Color"

 

:

 

{


    

"Green Component"

 

:

 

0.37805050611495972

,


    

"Red Component"

 

:

 

0.079237513244152069

,


    

"Blue Component"

 

:

 

0.82438474893569946


  

},


  

"Non-ASCII Anti Aliased"

 

:

 

true

,


  

"Sync Title"

 

:

 

false

,


  

"Disable Window Resizing"

 

:

 

true

,


  

"Close Sessions On End"

 

:

 

true

,


  

"Jobs to Ignore"

 

:

 

[


    

"rlogin"

,


    

"ssh"

,


    

"slogin"

,


    

"telnet"


  

],


  

"Non-ASCII Ligatures"

 

:

 

true

,


  

"Scrollback Lines"

 

:

 

0

,


  

"Scrollback in Alternate Screen"

 

:

 

true

,


  

"Scrollback With Status Bar"

 

:

 

false

,


  

"Hide After Opening"

 

:

 

false

,


  

"Flashing Bell"

 

:

 

false

,


  

"Cursor Guide Color"

 

:

 

{


    

"Red Component"

 

:

 

0.70213186740875244

,


    

"Color Space"

 

:

 

"sRGB"

,


    

"Blue Component"

 

:

 

1

,


    

"Alpha Component"

 

:

 

0.25

,


    

"Green Component"

 

:

 

0.9268307089805603


  

},


  

"BM Growl"

 

:

 

true

,


  

"Ansi 3 Color"

 

:

 

{


    

"Green Component"

 

:

 

0.89706093072891235

,


    

"Red Component"

 

:

 

0.99814993143081665

,


    

"Blue Component"

 

:

 

0.039139740169048309


  

},


  

"Link Color"

 

:

 

{


    

"Red Component"

 

:

 

0

,


    

"Color Space"

 

:

 

"sRGB"

,


    

"Blue Component"

 

:

 

0.73423302173614502

,


    

"Alpha Component"

 

:

 

1

,


    

"Green Component"

 

:

 

0.35916060209274292


  

},


  

"Shortcut"

 

:

 

""

,


  

"Background Image Location"

 

:

 

""

,


  

"Bold Color"

 

:

 

{


    

"Green Component"

 

:

 

0.98771905899047852

,


    

"Red Component"

 

:

 

0.96919095516204834

,


    

"Blue Component"

 

:

 

1


  

},


  

"Unlimited Scrollback"

 

:

 

true

,


  

"Custom Command"

 

:

 

"No"

,


  

"Smart Selection Rules"

 

:

 

[


    

{


      

"notes"

 

:

 

"Word bounded by whitespace"

,


      

"regex"

 

:

 

"

\\

S+"

,


      

"precision"

 

:

 

"low"


    

},


    

{


      

"notes"

 

:

 

"C++ namespace::identifier"

,


      

"regex"

 

:

 

"([a-zA-Z0-9_]+::)+[a-zA-Z0-9_]+"

,


      

"precision"

 

:

 

"normal"


    

},


    

{


      

"notes"

 

:

 

"Paths"

,


      

"regex"

 

:

 

"

\\

~?

\/

?([[:letter:][:number:]._-]+

\/

+)+[[:letter:][:number:]._-]+

\/

?"

,


      

"precision"

 

:

 

"normal"


    

},


    

{


      

"notes"

 

:

 

"Quoted string"

,


      

"regex"

 

:

 

"@?

\"

(?:[^

\"\\\\

]|

\\\\

.)*

\"

"

,


      

"precision"

 

:

 

"normal"


    

},


    

{


      

"notes"

 

:

 

"Java

\/

Python include paths"

,


      

"regex"

 

:

 

"([[:letter:][:number:]._]+

\\

.)+[[:letter:][:number:]._]+"

,


      

"precision"

 

:

 

"normal"


    

},


    

{


      

"notes"

 

:

 

"mailto URL"

,


      

"regex"

 

:

 

"

\\

bmailto:([a-z0-9A-Z_]+@)?([a-zA-Z0-9

\\

-]+

\\

.)*[a-zA-Z0-9

\\

-]+

\\

b"

,


      

"precision"

 

:

 

"normal"


    

},


    

{


      

"notes"

 

:

 

"Obj-C selector"

,


      

"regex"

 

:

 

"@selector

\\

([^)]+

\\

)"

,


      

"precision"

 

:

 

"high"


    

},


    

{


      

"notes"

 

:

 

"email address"

,


      

"regex"

 

:

 

"

\\

b[A-Za-z0-9._%+-]+@[A-Za-z0-9.-]+

\\

.[A-Za-z]{2,4}

\\

b"

,


      

"precision"

 

:

 

"high"


    

},


    

{


      

"notes"

 

:

 

"HTTP URL"

,


      

"regex"

 

:

 

"https?:

\/\/

([a-z0-9A-Z]+(:[a-zA-Z0-9]+)?@)?[a-z0-9A-Z]+(

\\

.[a-z0-9A-Z]+)*((:[0-9]+)?)(

\/

[a-zA-Z0-9;

\/\\

.

\\

-_+%~?&@=#

\\

(

\\

)]*)?"

,


      

"precision"

 

:

 

"very_high"


    

},


    

{


      

"notes"

 

:

 

"SSH URL"

,


      

"regex"

 

:

 

"

\\

bssh:([a-z0-9A-Z_]+@)?([a-zA-Z0-9

\\

-]+

\\

.)*[a-zA-Z0-9

\\

-]+

\\

b"

,


      

"precision"

 

:

 

"very_high"


    

},


    

{


      

"notes"

 

:

 

"Telnet URL"

,


      

"regex"

 

:

 

"

\\

btelnet:([a-z0-9A-Z_]+@)?([a-zA-Z0-9

\\

-]+

\\

.)*[a-zA-Z0-9

\\

-]+

\\

b"

,


      

"precision"

 

:

 

"very_high"


    

}


  

],


  

"Keyboard Map"

 

:

 

{


    

"0xf700-0x260000"

 

:

 

{


      

"Text"

 

:

 

"[1;6A"

,


      

"Action"

 

:

 

10


    

},


    

"0x37-0x40000"

 

:

 

{


      

"Text"

 

:

 

"0x1f"

,


      

"Action"

 

:

 

11


    

},


    

"0x32-0x40000"

 

:

 

{


      

"Text"

 

:

 

"0x00"

,


      

"Action"

 

:

 

11


    

},


    

"0xf709-0x20000"

 

:

 

{


      

"Text"

 

:

 

"[17;2~"

,


      

"Action"

 

:

 

10


    

},


    

"0xf70c-0x20000"

 

:

 

{


      

"Text"

 

:

 

"[20;2~"

,


      

"Action"

 

:

 

10


    

},


    

"0xf729-0x20000"

 

:

 

{


      

"Text"

 

:

 

"[1;2H"

,


      

"Action"

 

:

 

10


    

},


    

"0xf72b-0x40000"

 

:

 

{


      

"Text"

 

:

 

"[1;5F"

,


      

"Action"

 

:

 

10


    

},


    

"0xf705-0x20000"

 

:

 

{


      

"Text"

 

:

 

"[1;2Q"

,


      

"Action"

 

:

 

10


    

},


    

"0xf703-0x260000"

 

:

 

{


      

"Text"

 

:

 

"[1;6C"

,


      

"Action"

 

:

 

10


    

},


    

"0xf700-0x220000"

 

:

 

{


      

"Text"

 

:

 

"[1;2A"

,


      

"Action"

 

:

 

10


    

},


    

"0xf701-0x280000"

 

:

 

{


      

"Text"

 

:

 

"0x1b 0x1b 0x5b 0x42"

,


      

"Action"

 

:

 

11


    

},


    

"0x38-0x40000"

 

:

 

{


      

"Text"

 

:

 

"0x7f"

,


      

"Action"

 

:

 

11


    

},


    

"0x33-0x40000"

 

:

 

{


      

"Text"

 

:

 

"0x1b"

,


      

"Action"

 

:

 

11


    

},


    

"0xf703-0x220000"

 

:

 

{


      

"Text"

 

:

 

"[1;2C"

,


      

"Action"

 

:

 

10


    

},


    

"0xf701-0x240000"

 

:

 

{


      

"Text"

 

:

 

"[1;5B"

,


      

"Action"

 

:

 

10


    

},


    

"0xf70d-0x20000"

 

:

 

{


      

"Text"

 

:

 

"[21;2~"

,


      

"Action"

 

:

 

10


    

},


    

"0xf702-0x260000"

 

:

 

{


      

"Text"

 

:

 

"[1;6D"

,


      

"Action"

 

:

 

10


    

},


    

"0xf729-0x40000"

 

:

 

{


      

"Text"

 

:

 

"[1;5H"

,


      

"Action"

 

:

 

10


    

},


    

"0xf706-0x20000"

 

:

 

{


      

"Text"

 

:

 

"[1;2R"

,


      

"Action"

 

:

 

10


    

},


    

"0x34-0x40000"

 

:

 

{


      

"Text"

 

:

 

"0x1c"

,


      

"Action"

 

:

 

11


    

},


    

"0xf700-0x280000"

 

:

 

{


      

"Text"

 

:

 

"0x1b 0x1b 0x5b 0x41"

,


      

"Action"

 

:

 

11


    

},


    

"0x2d-0x40000"

 

:

 

{


      

"Text"

 

:

 

"0x1f"

,


      

"Action"

 

:

 

11


    

},


    

"0xf70e-0x20000"

 

:

 

{


      

"Text"

 

:

 

"[23;2~"

,


      

"Action"

 

:

 

10


    

},


    

"0xf702-0x220000"

 

:

 

{


      

"Text"

 

:

 

"[1;2D"

,


      

"Action"

 

:

 

10


    

},


    

"0xf703-0x280000"

 

:

 

{


      

"Text"

 

:

 

"0x1b 0x1b 0x5b 0x43"

,


      

"Action"

 

:

 

11


    

},


    

"0xf700-0x240000"

 

:

 

{


      

"Text"

 

:

 

"[1;5A"

,


      

"Action"

 

:

 

10


    

},


    

"0xf707-0x20000"

 

:

 

{


      

"Text"

 

:

 

"[1;2S"

,


      

"Action"

 

:

 

10


    

},


    

"0xf70a-0x20000"

 

:

 

{


      

"Text"

 

:

 

"[18;2~"

,


      

"Action"

 

:

 

10


    

},


    

"0x35-0x40000"

 

:

 

{


      

"Text"

 

:

 

"0x1d"

,


      

"Action"

 

:

 

11


    

},


    

"0xf70f-0x20000"

 

:

 

{


      

"Text"

 

:

 

"[24;2~"

,


      

"Action"

 

:

 

10


    

},


    

"0xf703-0x240000"

 

:

 

{


      

"Text"

 

:

 

"[1;5C"

,


      

"Action"

 

:

 

10


    

},


    

"0xf701-0x260000"

 

:

 

{


      

"Text"

 

:

 

"[1;6B"

,


      

"Action"

 

:

 

10


    

},


    

"0xf702-0x280000"

 

:

 

{


      

"Text"

 

:

 

"0x1b 0x1b 0x5b 0x44"

,


      

"Action"

 

:

 

11


    

},


    

"0xf72b-0x20000"

 

:

 

{


      

"Text"

 

:

 

"[1;2F"

,


      

"Action"

 

:

 

10


    

},


    

"0x36-0x40000"

 

:

 

{


      

"Text"

 

:

 

"0x1e"

,


      

"Action"

 

:

 

11


    

},


    

"0xf708-0x20000"

 

:

 

{


      

"Text"

 

:

 

"[15;2~"

,


      

"Action"

 

:

 

10


    

},


    

"0xf701-0x220000"

 

:

 

{


      

"Text"

 

:

 

"[1;2B"

,


      

"Action"

 

:

 

10


    

},


    

"0xf70b-0x20000"

 

:

 

{


      

"Text"

 

:

 

"[19;2~"

,


      

"Action"

 

:

 

10


    

},


    

"0xf702-0x240000"

 

:

 

{


      

"Text"

 

:

 

"[1;5D"

,


      

"Action"

 

:

 

10


    

},


    

"0xf704-0x20000"

 

:

 

{


      

"Text"

 

:

 

"[1;2P"

,


      

"Action"

 

:

 

10


    

}


  

},


  

"Log Directory"

 

:

 

""

,


  

"Use Canonical Parser"

 

:

 

false

,


  

"Ansi 14 Color"

 

:

 

{


    

"Green Component"

 

:

 

0.89121149225051699

,


    

"Red Component"

 

:

 

0.41672572861338453

,


    

"Blue Component"

 

:

 

0.97867441177368164


  

},


  

"Ansi 2 Color"

 

:

 

{


    

"Green Component"

 

:

 

0.87031603506787336

,


    

"Red Component"

 

:

 

0.21895777543895642

,


    

"Blue Component"

 

:

 

0.13008742736566298


  

},


  

"Background Image Is Tiled"

 

:

 

false

,


  

"Send Code When Idle"

 

:

 

false

,


  

"ASCII Anti Aliased"

 

:

 

true

,


  

"Tags"

 

:

 

[



  

],


  

"Ansi 9 Color"

 

:

 

{


    

"Green Component"

 

:

 

0.052976857870817184

,


    

"Red Component"

 

:

 

0.95708823204040527

,


    

"Blue Component"

 

:

 

0.090362116694450378


  

},


  

"Use Bold Font"

 

:

 

true

,


  

"Silence Bell"

 

:

 

false

,


  

"Ansi 12 Color"

 

:

 

{


    

"Green Component"

 

:

 

0.3333333432674408

,


    

"Red Component"

 

:

 

0.3333333432674408

,


    

"Blue Component"

 

:

 

1


  

},


  

"Window Type"

 

:

 

0

,


  

"Allow Title Reporting"

 

:

 

false

,


  

"Use Bright Bold"

 

:

 

true

,


  

"Cursor Text Color"

 

:

 

{


    

"Green Component"

 

:

 

1

,


    

"Red Component"

 

:

 

0.99659550189971924

,


    

"Blue Component"

 

:

 

0.9480862021446228


  

},


  

"Default Bookmark"

 

:

 

"No"

,


  

"Cursor Color"

 

:

 

{


    

"Green Component"

 

:

 

0.79959547519683838

,


    

"Red Component"

 

:

 

0.94297069311141968

,


    

"Blue Component"

 

:

 

0.03614787757396698


  

},


  

"Disable Smcup Rmcup"

 

:

 

false

,


  

"Name"

 

:

 

"Default"

,


  

"Blinking Cursor"

 

:

 

false

,


  

"Guid"

 

:

 

"59BB2A49-982B-40F8-9423-BAA42EB8F948"

,


  

"Ansi 1 Color"

 

:

 

{


    

"Green Component"

 

:

 

0

,


    

"Red Component"

 

:

 

1

,


    

"Blue Component"

 

:

 

0


  

},


  

"Idle Code"

 

:

 

0

,


  

"Ansi 10 Color"

 

:

 

{


    

"Green Component"

 

:

 

0.81519794464111328

,


    

"Red Component"

 

:

 

0.23300750553607941

,


    

"Blue Component"

 

:

 

0.11517760157585144


  

},


  

"Ansi 8 Color"

 

:

 

{


    

"Green Component"

 

:

 

0.33333333333333331

,


    

"Red Component"

 

:

 

0.33333333333333331

,


    

"Blue Component"

 

:

 

0.33333333333333331


  

},


  

"Badge Color"

 

:

 

{


    

"Red Component"

 

:

 

1

,


    

"Color Space"

 

:

 

"sRGB"

,


    

"Blue Component"

 

:

 

0

,


    

"Alpha Component"

 

:

 

0.5

,


    

"Green Component"

 

:

 

0.1491314172744751


  

},


  

"Automatically Log"

 

:

 

false

,


  

"Smart Cursor Color"

 

:

 

true

,


  

"Semantic History"

 

:

 

{


    

"action"

 

:

 

"best editor"

,


    

"text"

 

:

 

""

,


    

"editor"

 

:

 

"com.sublimetext.3"


  

},


  

"Ambiguous Double Width"

 

:

 

false

,


  

"Blur Radius"

 

:

 

2

,


  

"Ansi 0 Color"

 

:

 

{


    

"Green Component"

 

:

 

0

,


    

"Red Component"

 

:

 

0

,


    

"Blue Component"

 

:

 

0


  

},


  

"Cursor Type"

 

:

 

2

,


  

"Blur"

 

:

 

false

,


  

"Normal Font"

 

:

 

"InconsolataForPowerline 14"

,


  

"Vertical Spacing"

 

:

 

1

,


  

"Disable Printing"

 

:

 

false

,


  

"Ansi 7 Color"

 

:

 

{


    

"Green Component"

 

:

 

0.73333334922790527

,


    

"Red Component"

 

:

 

0.73333334922790527

,


    

"Blue Component"

 

:

 

0.73333334922790527


  

},


  

"Command"

 

:

 

""

,


  

"Terminal Type"

 

:

 

"xterm-256color"

,


  

"Horizontal Spacing"

 

:

 

1

,


  

"Option Key Sends"

 

:

 

0

,


  

"Blink Allowed"

 

:

 

false

,


  

"Minimum Contrast"

 

:

 

0

,


  

"Ansi 15 Color"

 

:

 

{


    

"Green Component"

 

:

 

1

,


    

"Red Component"

 

:

 

1

,


    

"Blue Component"

 

:

 

1


  

},


  

"Ansi 6 Color"

 

:

 

{


    

"Green Component"

 

:

 

0.73333334922790527

,


    

"Red Component"

 

:

 

0

,


    

"Blue Component"

 

:

 

0.73333334922790527


  

},


  

"Transparency"

 

:

 

0.021613801892339839

,


  

"Initial Text"

 

:

 

""

,


  

"Background Color"

 

:

 

{


    

"Green Component"

 

:

 

0.15233974158763885

,


    

"Red Component"

 

:

 

0.073702715337276459

,


    

"Blue Component"

 

:

 

0.21839480102062225


  

},


  

"Screen"

 

:

 

-1

,


  

"Non Ascii Font"

 

:

 

"InconsolataForPowerline 12"

,


  

"Ansi 13 Color"

 

:

 

{


    

"Green Component"

 

:

 

0.3333333432674408

,


    

"Red Component"

 

:

 

1

,


    

"Blue Component"

 

:

 

1


  

},


  

"Columns"

 

:

 

120

,


  

"Visual Bell"

 

:

 

true

,


  

"ASCII Ligatures"

 

:

 

true

,


  

"Custom Directory"

 

:

 

"No"

,


  

"Ansi 5 Color"

 

:

 

{


    

"Green Component"

 

:

 

0

,


    

"Red Component"

 

:

 

1

,


    

"Blue Component"

 

:

 

0.36536297202110291


  

}




}